In the midst of a global COVID19 pandemic, the Surgeon General was interviewed by Savannah Guthrie and decided (without examining anyone on air) to speculate, fabricate, and FALSELY identify, diagnose a cause linking vaping and COVID19. That's called negligent malpractice.
The question posed by Savannah Guthrie "…are young people more at risk than previously thought" at about 4:32 seemed to cause Jerome Adams to have a convulsion that can only be described as a severe case of correlation virus.
You read that right. Correlation Virus. That's a real thing. Made it up myself. Many 'experts' suffer from it. Skyrocketing symptoms include "Speculation-virus" (a close cousin), and while spreading, is a distant cousin to "Unsubstantiated-virus".
His response, in the middle of his response, included blatant fabrication. He just made things up. "There are theories that it could be because we know we have a higher proportion of people in the United States and also in Italy who vape. We don't know if that's the only cause."
To say "we don't know if that's the only cause" is a determination OF a cause. A diagnosis. How many people has he treated to make this assessment? Again, that's called negligent malpractice.
Adams, an anesthesiologist, is evidently board "qualified" to assume, correlate, fabricate, speculate, put you to sleep, and diagnose your symptoms without ever examining you. If Adams is an "expert" at infectious diseases, it is not listed as a skill or specialty in his bio. Really. He isn't qualified.
To state "We don't know if that's the only cause" is an unfathomable fabrication, blatant misconduct, speculation, and an unprofessional lack of (research) integrity. PERIOD.
---
Is there a pattern?
This isn't the first time Jerry's been scrutinized for assumptions, speculation, incorrect and unprofessional behavior.
In July 2019, The American Council on Science and Health (ACSH) noticed a tweet drawing a conclusion on a Tylenol study he clearly did not read. They called him out on it, and rightly so: Surgeon General Backpedals on Flawed Tylenol Study. Because of ACSH.
Also, ACSH called him out, ironically unsurprisingly, here:
Surgeon General Endorses Dubious Research Again, This Time on Vaping
Dr. Rodu called him out here in 2018 as well. You get the idea.
---
Included April 16th, 2020:
"Footnote in the middle of a blog"
With the "vaping" related 'evali', two items have surfaced. This one, aptly titled, is what Jerry (and others) used to fuel miscommunication of the actual cause in his day-to-day activities to the media. To date, I do not know of any nicotine-only cases that were tested and confirmed. There were 'self-reported' cases, but again, not lab-verified to my knowledge.
"Miscommunication about the causes of the US outbreak of lung diseases in vapers by public health authorities and the media"
Also, related, consumer risk perceptions. You know – the public manipulation of the 'cause'.
"News that Takes Your Breath Away: Risk Perceptions During an Outbreak of Vaping-related Lung Injuries"
If you're interested, see "Spurious-correlations".
---
Fred Rogers (Mr. Rogers of PBS fame) once said, "When I was a boy and I would see scary things in the news, my mother would say to me, 'Look for the helpers. You will always find people who are helping.'"
---
Here's the question, and answer. I believe credit for the graphic is to Clive Bates. I won't point out the most important thing (among others) isn't that his children know people don't listen to Surgeon General. Lean in, Jerry. Keep babbling.
---
I question the idiot.
WHY is he MAKING THINGS UP?
Sorry I screamed… I'm a bit beyond pissed off about this. What else is he lying about (and WHY is he lying) to the American people?
Just a sec….oh yes… I have examples of speculation, correlation, fraud here, wanting agreement for theories here, and covered snippets and narratives, here.
---
Correlation is not causation
Why would you be tempted to bring up an unrelated fabrication?
Now, if "that's the only cause", then two questions… well, never mind.
Adams, who I personally want to resign, had stated President Trump is "healthier than I am" just a week before.
But wait, there's more… here on his personal Twitter account, Adams says "ANYBODY can be exposed to/ get coronavirus."
Just a second…. let me get my… <stretches>, groan….there it is.
---
Is it true?
Certainly I am not an expert, but will speculate: The risk for getting coronavirus is exactly the same for ANYONE, as he himself pointed out just above. I'll remind you what Jerry said in the interview: "There are theories that it could be because we know we have a higher proportion of people in the United States and also in Italy who vape. We don't know if that's the only cause."
Wait a minute…… I remember a day where Jerry didn't worry… coronavirus wasn't even an issue.
Which is it, Jerry?
---
For the record
You may be surprised knowing my anger isn't just about him saying this about vaping itself. It is about him, or anyone, taking the liberty, and advantage of their position to lie to the public as he, and others, have always done. If it were true, I'd certainly want to know.
IMPORTANT
This is an important pre-release from Dr. Konstantinos Farsalinos, Anastasia Barbouni, Raymond Niaura.
Smoking, vaping and hospitalization for COVID-19
Also of importance, a PDF to "dispel widespread misinformation about vaping and coronavirus" from Roberto Sussman and Carmen Escrig:
VAPING AND SARS-CoV-2 AND COVID-19 – TECHNICAL INFORMATION FOR VAPERS
---
As Amelia Howard points out in her tweet, there is -0- basis for Adam's claims as she responds to Jeff Zeleny, a CNN Senior Washington Correspondent.
---
This blog is sponsored by Sky Vapes!
---
Interesting from the rodent, Phil, below:
Here is where that chart from Phil is (down the page).
Definition of Research Misconduct
The definition of research misconduct according to the Department of Health and Human Services (HHS) "Offices of Research Integrity" (ORI) is pretty simple and straight forward. Bold below is my emphasis.
Research misconduct means fabrication, falsification, or plagiarism in proposing, performing, or reviewing research, or in reporting research results.
(a) Fabrication is making up data or results and recording or reporting them.

(b) Falsification is manipulating research materials, equipment, or processes, or changing or omitting data or results such that the research is not accurately represented in the research record.

(c) Plagiarism is the appropriation of another person's ideas, processes, results, or words without giving appropriate credit.

(d) Research misconduct does not include honest error or differences of opinion.
---
Why do "leaders" create panic from speculation? Because they can.
Others have said it, others have repeated it. Repeatedly. Repetitiously. Redundantly. Already. New York Governor Cuomo and Michigan Governor Whitmer have both mentioned it and are also suffering from correlation-virus and speculation-virus.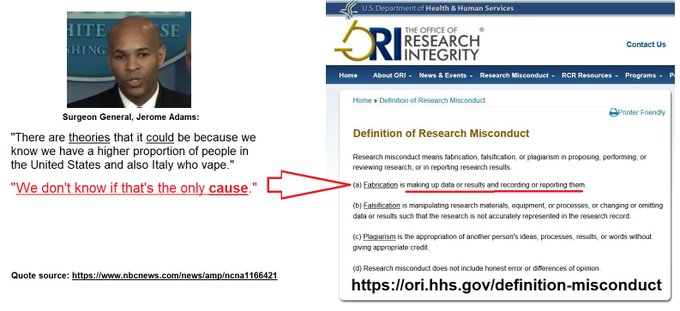 The opportunity to come clean with this and EVERY health-related issue (NOTE: "They" are still avoiding the truth about "evali") for every human is here in the present.
It seems I can only expect unrelated fabrication from the "top doc" of the United States. If I can't depend on the appointed Surgeon General to provide the "best scientific information available" as his website proclaims, I can only hope Trump will fire him, or ask him to resign immediately.
Edit 4/02/2020: Interestingly, when talking to the panel before his appointment to replace Vivek Murthy, Jerry had this to say:
"I always want to lead with science … but I also want to listen to what stakeholders are saying and what patients are saying," he said. "That's the lesson that I learned."
"The next surgeon general must be an advocate for science and facts and must be able to stand up and correct misinformation coming out of this administration," said Murray, the panel's top Democrat."
When Murray asked Adams whether he understands the importance of "picking science over politics," he gave her an emphatic yes."
That quote above is here:
Jerome Adams promises to put science ahead of politics as surgeon general
In a time we expect confidence and truth, there is no room for incompetence, fabrication, speculation, or negligent malpractice from public health leaders.
Correct me if I'm wrong, but I, and the rest of the world are still looking to "find people who are helping" despite how we "like it", good or bad, with the calm scientific truth – in public health. Thankfully, Dr. Fauci and Dr. Birx seem to be the educated ones I would look to for truth in the United States.
If you've come this far, PLEASE see Jim McDonald's explanation of disinformation, here:
Update 3/27/2020:
The attached PDF in this link, shows what Jukka says below. (Thank you Jukka!)
---
Lunar Rover
This blog is sponsored by LUNAR ROVER|Premium eLiquid.
Check them out!
They not only produce cocktail and fruit flavors, they also have a range of tobacco flavors ranging from 0-18 strength.
Here's a great deal from Lunar Rover!
Simply use "vapinglinks" at checkout for 15% off your entire cart!
---
---
Have you met my OUR friends at vapers.org.uk?
---
---
Are you familiar with Tobacco Harm Reduction For Life?
---
You can find me here trying to be cordial on Facebook
You can find me here being a bit more evil on Twitter
You can find me here on Instagram
You can also find me on LinkedIn
---
---
---
It's FREE, have you joined CASAA? Have you added your testimony here?
---
Keep up with the latest here with the Foundation for a Smoke-Free World
---
Medical, Research, Science Professionals:
Research:
---
Politics:
---
Consumers:
Your comments are NEVER filtered, always encouraged and welcome at the bottom this blog. There is definitely more to come.
Keep ON #Vaping On.
Kevin